Arbitrator 360 HD
Introducing the Toughbook Arbitrator 360° HD.

360 Degrees of Evidence Clarity
Telrepco now offers the revolutionary Arbitrator 360° HD, a rugged and durable mobile digital video system that sets a new standard for in-car video capture and retrieval.
Featuring unmatched video capture, storage, and transfer at every angle, the Arbitrator 360° HD is proven to reduce legal exposure and ensure the highest quality video evidence. This allows law enforcement professionals to focus on the situation at hand with full faith and confidence in knowing that no evidence will go unseen or undocumented.
The Toughbook Arbitrator 360° HD also reflects Telrepco's ongoing commitment to provide the products and services you need for all your mobile ruggedized computing needs.
Telrepco offers multiple procurement vehicles for Arbitrator and Body Worn Camera including GSA and CT NASPO, call us today for more information.
---
Front Camera (WV-VC30)
The main camera on the Toughbook Arbitrator 360° HD provides a 65° wide-angle view, plus up to 360X zoom capability with digital 12X, giving officers the flexibility to move in and out of traffic and danger zones while still keeping "in frame." In addition, five cameras can be added to create a split-screen field of view that can display up to five different angles inside and outside the patrol car. And with different customizable action-based triggers, an officer can initiate the recording and documentation of an event automatically once it occurs.
Front Camera Key Features: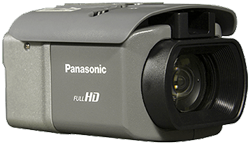 Full HD resolution: 1920 x 1080, up to 30 FPS with 1/2-inch CMOS sensor

Low-light technology for high-sensitivity and night-viewing capabilities

Autofocus zoom and dynamic tone curve compensation for day and night provide for easy camera operation

Resistant to extreme temperatures, vibration, dust and splashes

Full magnesium alloy case for ultimate hardware protection
Side Camera (WV-VC32)
The wide-angle side camera on the Arbitrator 360° HD covers 180 degrees, the entire side of the car, to ensure comprehensive capture. Low-light capabilities and Automatic Wide Dynamic Range ensure the capture of high-quality evidence. Utilizing two side cameras in addition to the front and rear cameras allows you to achieve a 360° view of your car, improving officer awareness and safety.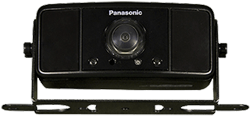 Side Camera Key Features:
Wide-angle views: 180° horizontal; 120° Vertical

HD Resolution: 720p

Low-light capabilities: 1.5lx (color), 1.0 lx (B/W) with day and night functions

Automatic Wide Dynamic Range for high-contrast images
---
Rear/Back Seat Camera (WV-VC31)
The Back Seat Camera uses a super wide field of view and infrared lighting to eliminate blind spots and capture evidence in any lighting condition.
Back Seat Camera Key Features

HD resolution: 720p

Wide-angle views: horizontal, 150 degrees; vertical, 93 degrees

Illumination sensor automatically engages infrared LED in B/W mode

Low-light capabilities: 1.5 lx (color), 0.0 lx (B/W, with IR-LED)

Auto Wide Dynamic Range to improve high-contrast images
Wireless Microphone System
Ultra-portable and powerful, the Toughbook Arbitrator 360° HD's wireless microphone attaches easily to a police officer's uniform and can transmit quality audio up to 1 mile from the receiver.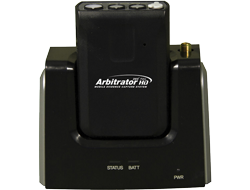 Wireless Microphone System Features:
Transmits from up to 1 mile away

2.4 GHz or 900MHz wireless mic

Auto scanning for the clearest communication channels and auto syncs between wireless microphone and receiver

12 Hours of talk time

Out of range, sync, mute, and recording indicator lights

Up to 3 channels of audio can be recorded simultaneously
---
Video and Audio Recorder
Easily mounted on a patrol car's console or in the trunk, the Toughbook Arbitrator 360° HD's video and audio recorder delivers high quality video resolution at a low file size. Video evidence is offloaded from the car seamlessly and securely.
Other features include:
User-definable pre and post-event recording up to 90 seconds

Reduced storage costs with no loss of quality of video files

Unparalleled 360° recording and viewing

Supports up to two 512GB solid-state drives

Tamper-proof evidence storage

Rugged MIL-STD-810G design to protect against shock, vibration, extreme temperatures, dust, moisture, and other harsh conditions.

Wireless offloading of evidence via 802.11n
---
Arbitrator Software Suite
Unified Evidence Management
Compatible with other sources of video such as Panasonic's new BWC as well as fixed security cameras, you get a unified evidence management platform to handle all of your sources of video evidence in one place. With flexible storage options and a flexible operating environment, For departmental use, Panasonic's SafeServ application will allow you to handle evidence in a unified fashion, eliminating the headache of having to use different programs to manage your evidence coming from multiple sources.
The Toughbook Arbitrator 360° HD's in-vehicle management software, Panasonic CommandR™, was designed to easily adapt and configure to an agency's individual standard operating procedures. A common user interface allows officers and administrators to view evidence both in a patrol car and back at the department with equal setup and functionality.
With access to video files set to the rights and privileges of the administrator, Arbitrator CommandR allows documented video to turn into manageable events, providing a strong link in your chain of evidence.
Other features include:
Five customizable fields in the front-end application eliminate terminology changes

Classification options enable seamless archiving and retrieving of data

Auditing reports are provided to ensure that officers know where their video is and who is viewing it

Provides departments with the ability to manage all digital evidence in a unified fashion, removing data silos and increasing efficiency.
The Toughbook Arbitrator 360° HD: Built with Your Input to Meet Today's Law Enforcement Needs.
This is the only fully integrated mobile digital video system engineered based on feedback provided by law enforcement officials from every size community and department.
Its reliable solid-state digital technology has set the standard in video evidence capture and processing, improving incident documentation and evidence management to ensure the streamlining of operations and the reduction of financial and personal risks associated with civil lawsuits.
And now, Telrepco is ready to put the Toughbook Arbitrator 360° HD to work for you.
GSA, CT NASPO, and NJ NASPO contracts available to qualified government agencies. Call us today at 800-537-0509 for more information.
Contact us today for more detailed product specs, pricing information, and more. Just as you are, we're always ready to serve.